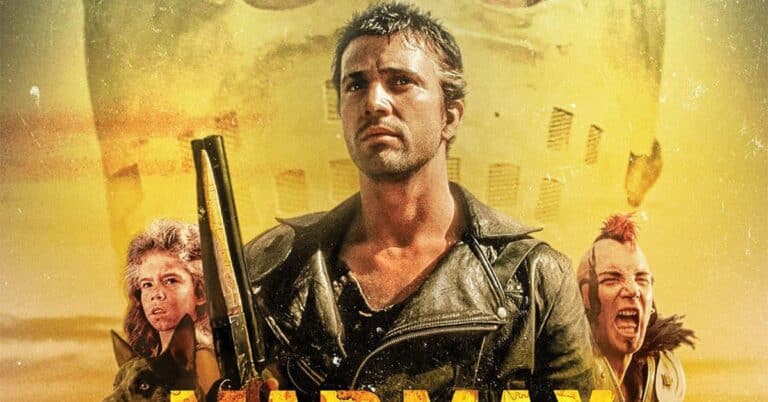 Mad Max - Which Dystopia? - FFF
Where
445 S. Stark Highway
,
Weare
,
03281
Currency Accepted:
Cash
Crypto
Precious Metal
Trade
More Information:
The Mad Max stories are set a post apocalyptic near future. The backstory is sketchy, but apparently the Cold War ended in a nuclear exchange with the U.S. and the U.S.S.R. blasting each other out of existence.
Mad Max got a lot of interesting reviews…
—–
"It obviously could be better. This movie have moments but it looks cheap. It has to be post apocaliptic, but i havent know that is post apocaliptic movie, I could not see this in movie. Fortunatelly next movie are better."
—–
Mad Max (Australia, 1979)
A movie review by James Berardinelli
The Mad Max trilogy is pure adrenaline – a quality that was not lost when the franchise received an injection of American money for its third installment. The essential formula is straightforward, and involves a lot of fights and chases. The films' appeal is strictly visceral; one can pretty much shut down the higher functioning areas of the brain. Perhaps the most surprising thing about the Mad Max movies (I credit director George Miller for this) is that, despite a certain amount of repetition, the films never threaten to become routine. There's a sense of spontaneity to each action set piece, and we're never sure exactly how things will turn out.
Mad Max was made in 1979 by Miller on a shoestring budget. The film starred an as-yet unknown Mel Gibson in the title role and received minor U.S. notice. It had a limited American run before disappearing. When Mad Max 2: The Road Warrior arrived two years later, with a bigger budget and higher aspirations, Warner Brothers spent some money on the advertising campaign and opened it wide. It was a thunderous success. Overnight, Mad Max went from being a U.S. cult hero to a mainstream figure, and Mel Gibson's place in the firmament was secured. When it came time to make a third Max movie, Mad Max: Beyond Thunderdome, Warner Brothers put up enough cash so that Miller (joined in this outing by co-director George Ogilvie) could go wild. The third Mad Max movie represents the end of the saga, although Miller has occasionally voiced interest in producing a fourth film. Gibson moved on the other things: the Lethal Weapon movies, Braveheart, and – perhaps most famously (or infamously, depending on your point of view) – The Passion of the Christ. But Mad Max is where it all started.
The films are different in tone. Mad Max is the bleakest of the three, as it pulls Max through a character arc that sees everything he holds dear taken away from him. What begins as a fairly typical action/adventure movie turns into a revenge tale. The ending is stark, and there's not much catharsis to be had when Max achieves his aim. Mad Max 2: The Road Warrior is a more traditional story, with Max as a mysterious figure who arrives to play the reluctant savior. Think Han Solo in a post-apocalyptic desert setting. In Mad Max: Beyond Thunderdome, Max is a little more relaxed and tends toward being a traditional hero. Once again, he's championing the underdogs, but this time he's doing it with minimal reluctance. By the end of the third film, Max has almost come full circle. He hasn't regained his family, but he has regained his soul.
The Mad Max stories are set a post apocalyptic near future. The backstory is sketchy, but apparently the Cold War ended in a nuclear exchange with the U.S. and the U.S.S.R. blasting each other out of existence. Other countries, including Australia (where the movies take place), became involved. Law, order, and most of civilization is gone. There's not a lot the police can do to protect the innocent against the human pack animals, and most individuals are not prepared to protect themselves. The distilled scenario isn't original; in fact, it's a popular conceit for B-grade science fiction. (Anyone remember Planet of the Apes? The Omega Man? The list of titles goes on…) In Mad Max and its sequels, it is effectively applied, and the wastelands of the Australian desert provide a compelling setting.
It's pretty much assumed throughout art and literature that the collapse of civilization will result in the rise of barbarism. That assumption underlies Mad Max, where the strong prey on the weak, and Max steps in to be the equalizer. It's an old formula, but here it's accomplished with style and energy. More importantly, Max isn't a Stallone or Schwarzenegger icon (he preceded both, anyway). He's a real character who changes during the course of the trilogy. Action films always work best when the central character seems made of flesh and blood rather than sterner superhero material.
Mad Max opens by highlighting what would become the trilogy's trademark: a complex car chase. Max, an Australian cop; his partner, Goose (Steve Bisley); and other officers are chasing the outlaw Nightrider (Vince Gil). Nightrider is the member of a gang and, when the chase leaves him in a body bag, the leader of the gang, Toecutter (Hugh Keays-Byrne), vows revenge. After going after Goose, Toecutter targets Max's wife, Jesse (Joanne Samuel), and young child. This causes Max, who had been contemplating retirement, to return to law enforcement with a full fury.
There's something a little different about each of the Mad Max chapters. In the first movie, there are some extended scenes of tenderness between Max and his family. In addition to offering a change in tone and a break in the action, these illustrate the kind of person Max is before he becomes The Road Warrior (or, as he is later referred to, "The Man with No Name" – an homage to Clint Eastwood). Mad Max 2: The Road Warrior is a straightforward action/adventure film, filled to the brim with over-the-top chases and stunts. When the average viewer refers to a Mad Max movie, this is usually what he or she is remembering. Mad Max: Beyond Thunderdome is more plot-driven than its predecessors, with a circular arc that brings Max to Bartertown twice: once as a petitioner and once as an avenger.
At the time when Mad Max was made, Mel Gibson was a virtual unknown. The range he displays in the film sets him apart from the other actors. By the time Mad Max 2: The Road Warrior went in front of the cameras, Gibson had achieved a degree of recognition courtesy of Peter Weir's Gallipoli. Between the second and third Mad Max films, pictures like The Year of Living Dangerously and The Bounty raised him to the level of international stardom. Yet it was his portrayal of Mad Max that made him a candidate to star opposite Danny Glover in Lethal Weapon.
Decades after being brought to the screen, these movies hold up well. The reason is simple: George Miller understands how to make action sequences (especially chase scenes) exciting. Miller never falls back on the formulas that have become the bane of too many recent action films, and his sustained cuts lend a clarity to the proceedings. The battle between Max and The Blaster in Beyond Thunderdome may be the best the series has to offer, but each of the films has something that fans and non-fans alike can embrace. For action fans, this remains one of the genre's most enduring classic trilogies.
—–
The second screening of each month at Freedom Film Festival is a dystopian future vision or post-apocaliptic struggle, depicted on the silver screen. We couldn't overlook Mad Max.
…There WILL be popcorn!
And, just so you don't think we're being Debbie Downers and trying to blackpill you into depression, our after-film discussions tend towards "what to do about it."
Thanks to our Supporters!
Supporter