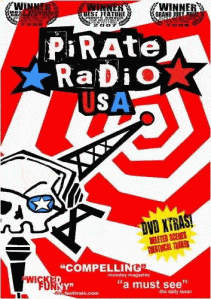 Where
445 S. Stark Highway
,
Weare
,
03281
Event Registration Fees:
$5
An event by:
More Information:
Freedom Film Festival brings you Pirate Radio!
Actually, this film night will be shared with the Pine Tree Radio Society's monthly 3-3-3 equipment test night, so come and experience both! It's going to be a fun evening!
Pine Tree Radio Society test day event (same day): https://freestate.app/events/weare/workshops/3-3-3-radio-test-day-pine-tree-radio-society/
Pirate Radio USA is a feature length documentary about the underground world of unlicensed radio in the USA, where people play what they want and say what they want-unless the FCC catches them. On the way see the rise of Big Media, the growth of Indy Media to encounter it, and witness their showdown over the truth during the 1999 World Trade Organization meetings in Seattle. DJ's Him and Her, from their live Pirate Radio USA Studio, take you on a rock -n-roll journey inside rogue radio stations across the country to see why Americans defy Federal Law to free the radio airwaves. Seize the Airwaves!
The film showcases illegal radio, or pirate radio in America. DJs Him and Her (Pearson and Jones respectively) travel throughout the country meeting and interviewing radio pirates, taking action against the FCC and the World Trade Organization's 1999 Seattle conference.
————————————-
Director's Statement:
When my partner and co-producer and I began our journey into pirate radio in 1996, we never imagined it would end, nearly a decade later, in the documentary feature, Pirate Radio USA. This is my first feature, and as a first hand narrative, a big part of my life for the past 7 years it took to create.
"We just wanted to be on the radio," DJ Her (aka Mary Jones, producer) always reminds me. And radio is what we did–on an empty space on the dial, we broadcast–or really microcast, with a tiny 78-watt transmitter–thinking, at the time, our Seattle neighborhood would be our only audience.
We figured we had as much a right to the public airwaves as anyone. It was only after we discovered we weren't the only ones who acted on this belief that the idea of a movie emerged.
So we saved up our money, bought a digital video camera and hit the road to document the pirate radio phenomenon. There are hundreds or thousands of illegal 'casters across the country at any given time and we went inside to capture pirates from dozens of stations. It helped that we were pirates ourselves on a trust level; there's a real possibility of being fined and jailed, so talking with them– much less filming them, could have been a real hassle.
We captured over 60 hours of footage to make the 82-minute documentary, but didn't start right away. We did radio two years before we shot anything–that's really what necessitated the Shrinky-Dinks, as well as the home-made dioramas we created out of spray-painted radios and toys, to represent the cities and radio pirates we visited. It's a Do-It Yourself movie about Do-It-Yourself radio–what could be a better fit?
This is a post-objective documentary–we're microcasters ourselves, after all– I think it's more truthful to lay our cards on the table and let people judge for themselves. Making a documentary is like making a million layer cake, and that means being really organized, realizing you need lots of help, trusting your judgment and remembering, like the cake, no matter how complicated it may be to make, what only matters is that it's good.
————————————-
Review by Scott Beggs (https://filmschoolrejects.com/aff-2006-review-pirate-radio-usa/)
Normally I write movie reviews for this website, but I consider this piece to be more of a public service announcement. If you see Pirate Radio USA, you will want to go to Radio Shack, drop a hundred bucks and start broadcasting from your basement tonight. Consider this your only warning.
This documentary, directed and written by Jeff Pearson, follows DJ Him and DJ Her on their quest throughout the US to find and document pirate radio stations (before they're shut down) and the struggles that they've endured due to legislation making it illegal to use the airways. Not surprisingly, Pearson aka DJ Him was a pirate riding the low-frequency high seas himself, living in Seattle during its pivotal transition from indie grunge to Starbuck's caffeinated cultural takeover. This personal connection shines through in every frame.
With a surprisingly good production value, Pirate Radio has everything a documentary needs. It's educational, but incredibly entertaining. It's a serious subject, but Pearson and his cohorts don't take themselves too seriously. Above all else, it's a story about freedom, and the entities which believe it's getting in the way of some pretty serious money-making. On top of that, while working with such a politically motivated subject, Pearson and his co-captain Mary aka DJ Her never lose the context needed to make an interesting film. Instead of bombarding one side of the aisle with quick one-liners and Bush-bashing, they understand that it's a bigger issue than one party, and indeed, there are many people on both sides of the fence to blame.
Thanks to our Supporters!
Supporter