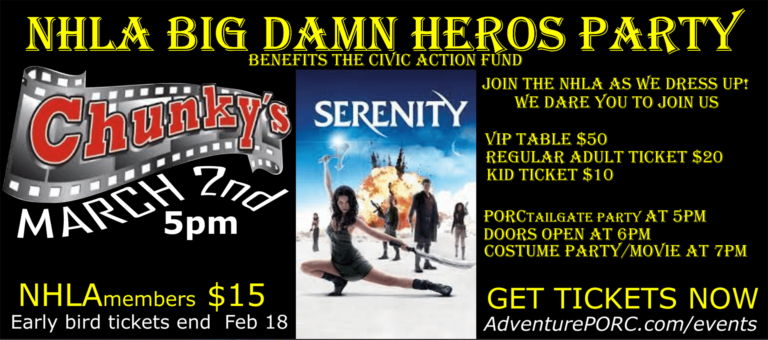 Big Damn Heroes! Civic Action Fundraiser for NHLA
More Information:
Special Offer:
VIP tickets available immediately.
NHLA members may purchase discount tickets now
Discount ticket sales for everyone open soon
RSVP Here (Share this link)
https://porcupineoutdoorrecreationclub.wildapricot.org/event-5110001
The New Hampshire Liberty Alliance (NHLA) is hosting an evening event for fans of the TV show "Firefly" and the film "Serenity." Attendees are encouraged (but not required) to come in costume as a character from either show. Tickets are $15.00 per person for a limited time for NHLA members, and after 2/18 the price will be $20.00 per person.
Those who come in costume can enter the costume contest, and those who choose not to will join us as judges. A professional photographer will be on hand to take pictures of attendees in their costumes.
The event will start with a tailgate party with the Porcupine Outdoor Recreation club from 5-6pm. Doors to the theater will open at 6:00pm. The costume contest will be held at 6:30pm and the movie will start at 7:00pm. Food and drinks will be available for purchase at Chunky's. All proceeds from the event will go directly to the NHLA Civic Action Fund, which is used to help families in New Hampshire during times of crisis, and to support children's scholarship funds.
Aim to Misbehave and Be a Big Damn Hero!
Thanks to our Supporters!
Supporter